"On this land, we have what makes life worth living" our wooden framed Artwork recites the famous Mahmoud Darwish incorporated with embroidered tatreez fabric. This ready to hang artwork adds the perfect pop of Palestine to your home.
Key Features

Hand engraved calligraphy
Embroidered fabric in the shape of Palestine
Framed wood Mdf with Oak Veneer
Wall hanging backing attached
Size: 8.3" X .7" X 15"
Shipping & Returns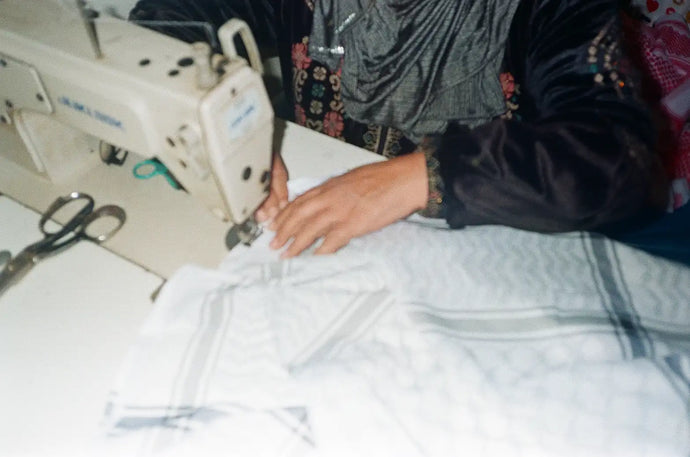 INTRODUCING OURSELVES
Our Story
Founded in 2018, we create meaningful Arab heritage streetwear rooted in tradition, culture, and history. At KUVRD we combine fashion with purpose. We're an impact-driven lifestyle brand that speaks to the uniqueness of the Arab identity & culture. Our designs honour the people who make them & the places where they are made, while supporting marginlized communities through sustainable employment & community-based projects.It's our way of giving back, intertwining the threads of past and present, and crafting a brighter, more inclusive future.
Our inspiration springs from a deep-rooted history that dates back to our families textile factory in Palestine in the 1950s. 
Join us on this journey of reconnecting roots — preserving art, culture, and identity.
learn more
A lovely piece of art, authentic and of good quality.
Really like this as it is subtle in style and has a powerful impact, love it love it love it.
A beautiful piece in our home
I really love the gorgeous details of the Tatreez embroidery inside of the shape of Palestine. It's a very unique piece of art and I love the quote by Mahmoud Darwish.
Beautiful
This piece was beautiful and a great addition to our home. I love the detail of the tatreez and writing.
What a peice
Such a beautiful piece with so much sentimental value. I have it hung in our family room and whenever we have friends over everyone complements it.