A modern take on Sitty's most coveted accessory.
Our authentic Saya (صايا) fabric belt is ethically sourced from Aleppo, Syria. This modern take on a traditional style has many versatile uses from being worn as a belt with your Thobe or as a heritage piece to elevate an everyday outfit. 
Key Features

Wraps around through loop insert 100% Authentic Saya fabric ethically sourced from Syria 50% Cotton 30% Silk 20% Rayon
Care Guide

Wash in cold water

Do not tumble 
Hang to dry 
Shipping & Returns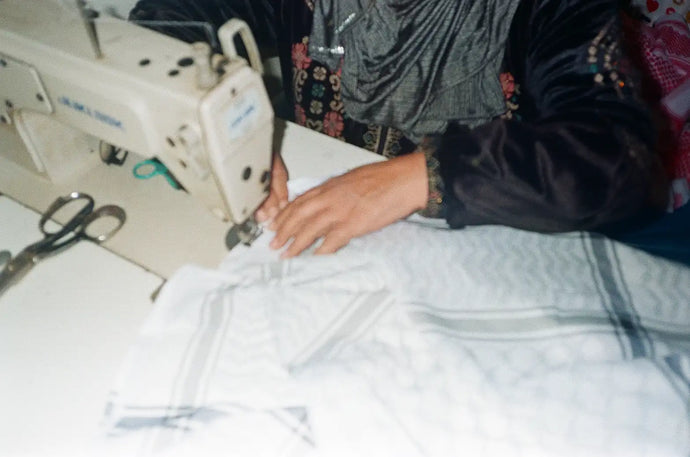 INTRODUCING OURSELVES
Our Story
Founded in 2018, we create meaningful Arab heritage streetwear rooted in tradition, culture, and history. At KUVRD we combine fashion with purpose. We're an impact-driven lifestyle brand that speaks to the uniqueness of the Arab identity & culture. Our designs honour the people who make them & the places where they are made, while supporting marginlized communities through sustainable employment & community-based projects.It's our way of giving back, intertwining the threads of past and present, and crafting a brighter, more inclusive future.
Our inspiration springs from a deep-rooted history that dates back to our families textile factory in Palestine in the 1950s. 
Join us on this journey of reconnecting roots — preserving art, culture, and identity.
learn more
Love it!
I love this belt so much. I recently wore it to a hena party with my thob, and it was amazing. The only thing to note is that it is not as long as the photo, so it is much shorter when you tie it. I highly recommend you buy it. Great quality too.
Soo cute , I love my belt
Very stylish and and can be worn many ways
Perfect!
This belt is well made and the fabric is so pretty, especially in the sunlight
I ordered the red and the blue belts and they are stunning! The gold detailing in the fabric is even more beautiful and luminous in person. I feel so proud to wear this piece of Syrian heritage. Also the packaging smells amazing!