The Nashmi face mask is inspired by the Levant regions of Jordan, Iraq, and Syria.  A-Nashama - a common word in the Jordanian, Iraqi, and Syrian dialects mean the courageous and pure-hearted individual. This 3-layer mask features a filter insert and adjustable silicon elastic piece for extra protection and comfort - regardless of how long you wear it!  
 All Masks are Final Sale*
Key Features

3-layers mask

One size-adjustable silicon elastic

Filter insert pouch [3.15'' by 4.8'']

Hand Washable, Soft, Breathable

Fabric Content: 80% Cotton 15% Polyester 5% Elastic 

Made locally in Irbid, Jordan supporting the local economy.
Care Guide

Wash after every use

Hand wash

Warm wash

Air dry
Shipping & Returns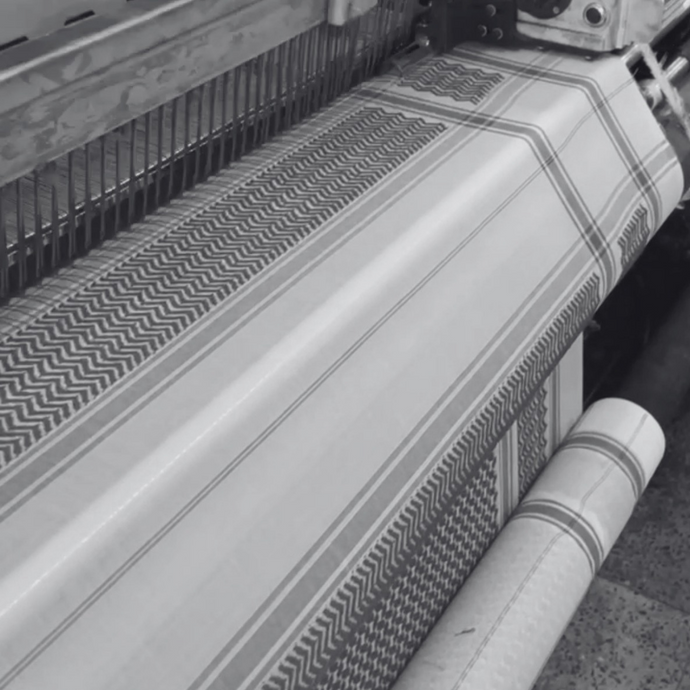 Our Factory
We proudly produce all of our keffiyehs in our family-owned keffiyeh factory currently operating in Amman, Jordan. Established by Jido Ahmed Al Bulbul in Jericho, Palestine in the 1950's, the factory was relocated after he was expelled from Palestine in 1967. The factory is now run by two of his children and produces a wide variety of keffiyehs amongst other textiles. Although our headquarters is based in North America, we recognize the importance of creating pieces authentically and through that, supporting the local Arab community.
learn more
Mawasi Badu Mask
love this pattern!! the fit is perfect too. all the masks should be this size!
LOVE
this is one of my favorite kufiyah mask patterns that kuvrd makes. this is my second time purchasing this pattern. my baba wore a kufiyah with this pattern. when I wear it, I feel like I'm honoring him and my ancestors.
Amazing Keffiehs ( Red & Black)
I bought their Nashmi Keffiyehs last year when I was visiting one of the local amazing shops in Toronto. Sadly, that shop closed. This is my second order. Amazing quality that represent the indigenous Jordanian & Palestinian Cultures. Love your products. All the best to you. You have a life time customer.
All masked up.
I purchased this face mask as i knew that the pandemic is very much ongoing and i needed something that made a statement and what more than this watan keffiyeh mask.
Pleased with the product overall
I bought one some time ago, lost it maybe two months later, and bought another one. The product appeared to be better the second time around, it seems bigger and the keffiyeh cloth was more solidly sewn to the mask than the last time. Overall it looks very stylish and the quality is solid. The only thing is it is noticeably warmer and harder to breathe than medical masks, so not recommended for wear during warmer weather or extended periods of time (e.g. travel). Also, pickup/delivery options are limited.