Al-Amad Bedu Mask - Wrap Around
$15.00 USD
/
| Sale
| Sold out
4 reviews
Stay kuvrd up with our Bedouin face mask,  featuring 3-layer, a filter insert and an adjustable elastic the wraps around the head (Hijab friendly).

Key Features

3-layers mask

One size-adjustable silicon elastic

Filter insert pouch [3.15'' by 4.8'']

Hand Washable, Soft, Breathable

Fabric Content: 80% Cotton 15% Polyester 5% Elastic 

Made locally in Irbid, Jordan supporting the local economy.
Care Guide

Wash after every use

Hand wash

Warm wash

Air dry
Shipping & Returns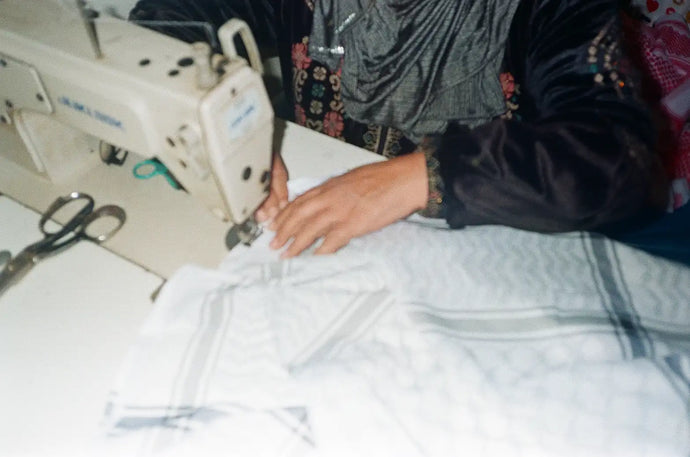 INTRODUCING OURSELVES
Our Story
Founded in 2018, we create meaningful Arab heritage streetwear rooted in tradition, culture, and history. At KUVRD we combine fashion with purpose. We're an impact-driven lifestyle brand that speaks to the uniqueness of the Arab identity & culture. Our designs honour the people who make them & the places where they are made, while supporting marginlized communities through sustainable employment & community-based projects.It's our way of giving back, intertwining the threads of past and present, and crafting a brighter, more inclusive future.
Our inspiration springs from a deep-rooted history that dates back to our families textile factory in Palestine in the 1950s. 
Join us on this journey of reconnecting roots — preserving art, culture, and identity.
learn more
Gorgeous and well-made
The 2 keffieyh maks are gorgeous and well-made, the embroidery done by a skilled hand.
Beautiful & Comfortable!
The masks are beautiful and very comfortable!
Beautiful!!!
The designs are so beautiful!! And they are comfortable. I love the straps on them. Definitely makes it easy to wear.
Amazing!
These masks have saved my life! Wearing hijab and wearing masks has never been so easy, especially if you like to wear your hijab tightly like I do. The masks are comfortable and breathable, and I honestly couldn't recommend them enough! ❤️