Introducing our multi-functioning Keffiyeh Bandana, now available in red! Designed with original woven keffiyeh fabric.
Key Features

Embroidered Fabric

90% Cotton 10% Polyester 

Made in in our family owned Keffiyeh factories in Jordan 
Size: 20.5" X 20.5"
Care Guide

Hand wash
Cold wash
Air Dry
Shipping & Returns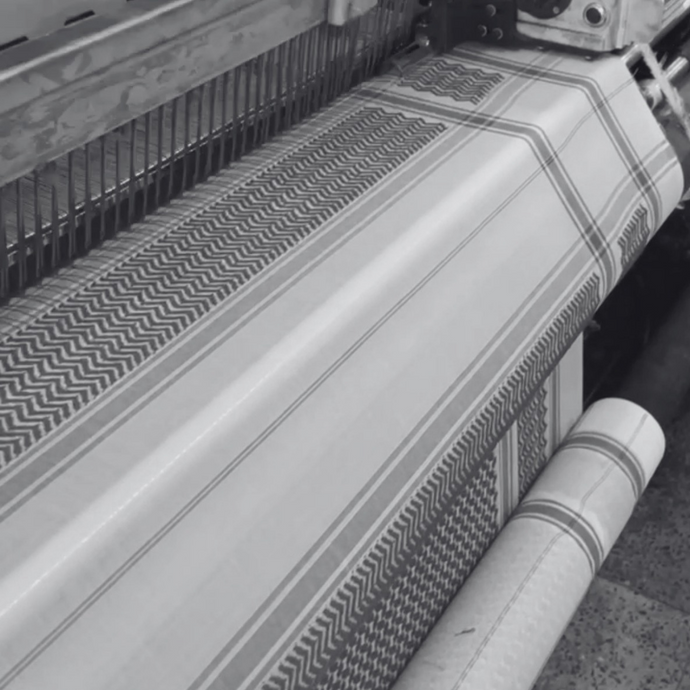 Our Factory
We proudly produce all of our keffiyehs in our family-owned keffiyeh factory currently operating in Amman, Jordan. Established by Jido Ahmed Al Bulbul in Jericho, Palestine in the 1950's, the factory was relocated after he was expelled from Palestine in 1967. The factory is now run by two of his children and produces a wide variety of keffiyehs amongst other textiles. Although our headquarters is based in North America, we recognize the importance of creating pieces authentically and through that, supporting the local Arab community.
learn more
Good Quality
The quality of the material is good. Also it looks good and I receive many compliments on it.
Well worth it
Good quality and well put together; I see myself getting multiple more down the road
Quality & Convenience
I initially received one of these hankercheifs for free after an order I placed got inadvetently held up because of a supply chain issue completely outside the control of KUVRD.
I love the craftsmanship as well as the size, especially on days where its just a bit too hot & humid to wear a full size keffiyeh.
beautiful
it's great, lovely, beautiful, handy.
Quality, Function and Mission
Living in Florida, a full keffiyeh is a bit much for summer humidity, but working outside a want something around my neck.
This bandana is of impeccable craftsmenship and doesn't exactly what I need it for... To block the sun, soak up sweat and catch the breeze to keep me cool.
Best of all the mission of this product matters to me as a humanitarian, a conscious consumer, and as a Muslim. People who recognize the pattern know, and those who don't, but look the textile, it gives me a chance to discuss Palestine, my faith and buying that matters. As'salamu Alaikum and Power to the People of Palestine.