The Classic Keffiyeh Denim Jacket - Redesigned. Layer this premium unisex denim jacket & elevate your outfit all while representing Palestinian heritage. Pair it with your favorite tee and trousers.
Key Features

Embroidered black keffiyeh fabric featured on the back
100% cotton denim
Drop shoulder 3/4 folded sleeves
Unisex
Care Guide

Hand wash/Cold wash
Air dry
Handle with care
Shipping & Returns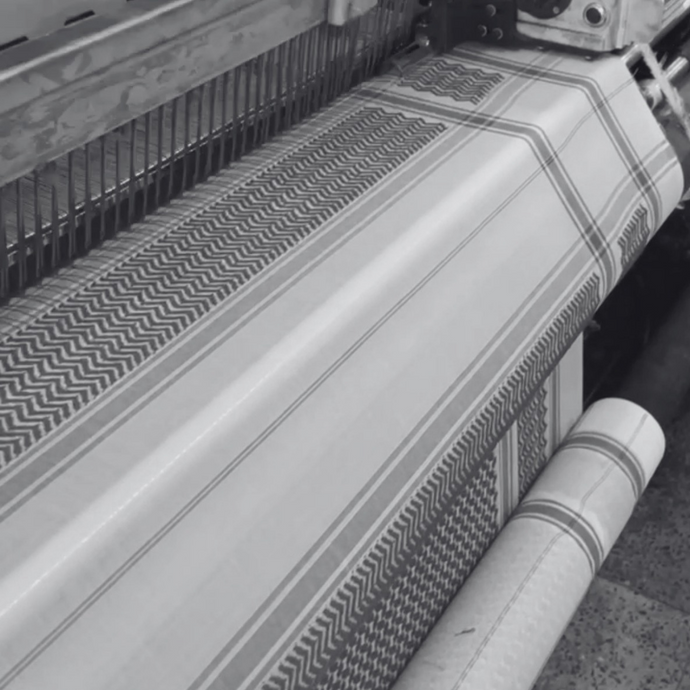 Our Factory
We proudly produce all of our keffiyehs in our family-owned keffiyeh factory currently operating in Amman, Jordan. Established by Jido Ahmed Al Bulbul in Jericho, Palestine in the 1950's, the factory was relocated after he was expelled from Palestine in 1967. The factory is now run by two of his children and produces a wide variety of keffiyehs amongst other textiles. Although our headquarters is based in North America, we recognize the importance of creating pieces authentically and through that, supporting the local Arab community.
learn more
Looks like the picture and good quality, it's just a bit thinner that I thought. Great overall!
Chaqueta con despacho a Chile 🇨🇱
Compre esta la chaqueta en color negro con despacho a Chile, el diseño es increíble y la calidad muy buena. Mido 1.82 mts y peso 80kg, compre talla L y es perfecta, solo levemente corta de mangas y da espacio cómodamente para usar un poleron bajo la chaqueta para los días de frío. Tardo aproximadamente 4-5 días en llegar a Chile por despacho normal, lo más lento fue la aduana que al comprar dos productos USD 159 aproximadamente por el monto me cobraron impuestos y arancel de importación.
My new favourite!
I am in love with the keffiyeh jacket, fits well (Size S, equivalent to size 36/38) and looks Super good 🥰
The Iconic Jacket
The Kuffiyeh jean jacket is truly an icon. The kuffiyeh print on the back truly represents the culture and the heritage. The 3/4 sleeve action gives a semi-casual chill look. My team and I ordered 5 jackets and we wear them out together as a part of our sick drip squad.
A special thanks to the phenomenal team at KUVRD.
Great College Grad Gift
My roommate is Palestinian and I wanted to get her something that allows her to show her pride wherever the future takes her. This jacket is wonderful in every aspect of the word. If you have doubts about quality, this is your sign not to. I have yet to give it to her, however a Large in this jacket is very similar to her Large in Target's jean jackets/shackets.
It's also very nice to know that this company donates to those in need, it's another layer to this gift that's meaningful and wholesome.