This elevated keffiyeh tee is minimalist with an edge. The Keffiyeh holds more than just history, culture, and heritage, it holds a statement for all those who wear it. We have taken this statement and with the inspiration of present-day street-style have reflected a new contemporary way of showcasing just that.
Key Features

Unisex

Original woven keffiyeh fabric

Due to unique fabric, keffiyeh prints may slightly vary by tee

Soft premium-quality feel

75% Cotton 25% Polyester
Care Guide

Wash in cold water

Do not tumble 
Hang to dry 
Shipping & Returns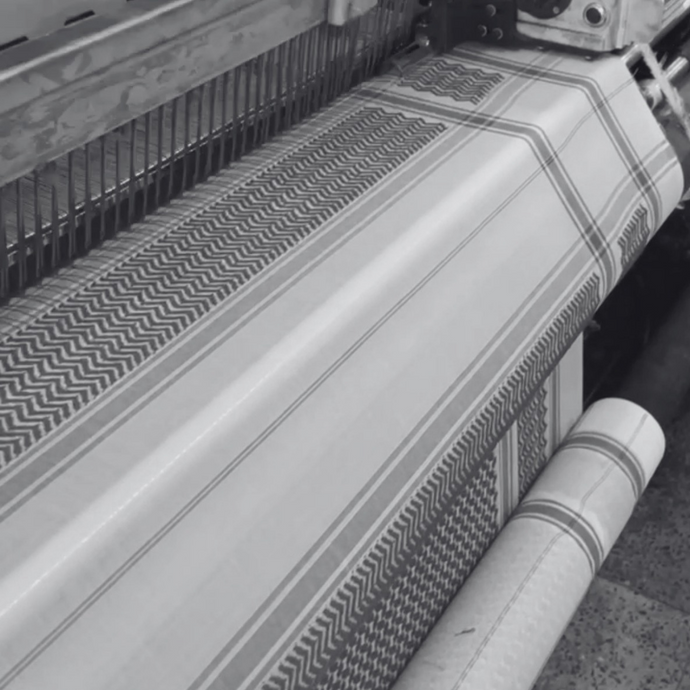 Our Factory
We proudly produce all of our keffiyehs in our family-owned keffiyeh factory currently operating in Amman, Jordan. Established by Jido Ahmed Al Bulbul in Jericho, Palestine in the 1950's, the factory was relocated after he was expelled from Palestine in 1967. The factory is now run by two of his children and produces a wide variety of keffiyehs amongst other textiles. Although our headquarters is based in North America, we recognize the importance of creating pieces authentically and through that, supporting the local Arab community.
learn more
Wonderful Tee
This tee is great. You can wear it with other articles in combination of ways. I love the design.
The Perfect Tee
This shirt is so great! You can dress it up or down and the design looks so good.
Amazing tee!
Super high quality and true to size! Perfect fit!
Awesome
Really comfy and the size was perfect, I'm usually medium but I got a small and it fit perfect.
Really good material and the design it's beautiful I also got a keffiyeh and I'm in love with it!!
😁😁