Inspired by the rich diverse greenery found across villages in Palestine. The Keffiyeh reimagined to an everyday throw over vest.
Key Features

Embroidered fabric

Handcrafted Tasseled edge

60 % cotton 40 % polyester  
Care Guide

Hand wash
Cold wash
Air dry Handle with care
Shipping & Returns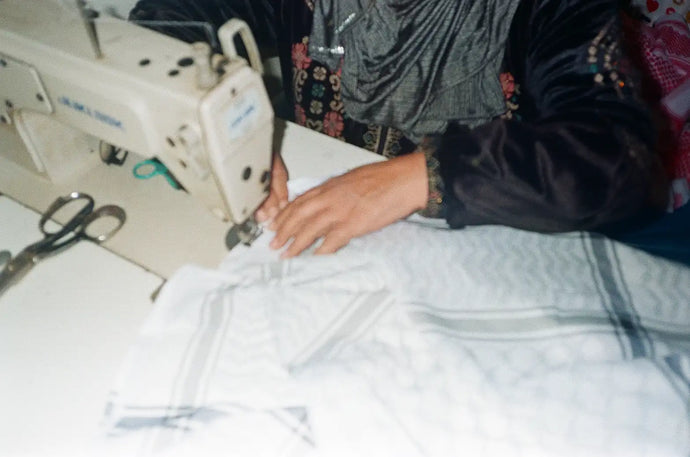 INTRODUCING OURSELVES
Our Story
Founded in 2018, we create meaningful Arab heritage streetwear rooted in tradition, culture, and history. At KUVRD we combine fashion with purpose. We're an impact-driven lifestyle brand that speaks to the uniqueness of the Arab identity & culture. Our designs honour the people who make them & the places where they are made, while supporting marginlized communities through sustainable employment & community-based projects.It's our way of giving back, intertwining the threads of past and present, and crafting a brighter, more inclusive future.
Our inspiration springs from a deep-rooted history that dates back to our families textile factory in Palestine in the 1950s. 
Join us on this journey of reconnecting roots — preserving art, culture, and identity.
learn more
Perfectly versatile, representation + fashion
Absolutely in love with this vest. Those who know compliment me, greet me in solidarity. It's a great way to start the conversation about Palestine too.
And honestly- I've been harassed by *srael supporters while wearing it and I'm all the more fine with that!
Beautiful material … recommended
Love it
It's a fantastic vest, made well, and I've gotten so many compliments! I love it!
Should be a wardrobe essential :)
This piece goes with everything! Just wear it with your neutrals and jeans and you're good to go!
Proud purchase
Love the material and style. Ideal for different seasons and can be worn in different styles.