| Sale
Kids Keffiyeh Mask
$11.00 USD
/
Protect yourself and those around you in our sustainable pleated woven keffiyeh mask. This non-medical* face mask is soft, breathable, and washable. Inspired by the Jerusalem mask made in Burj Al Barajneh Refugee camp in Lebanon.


Key Features
Care Guide
Shipping & Returns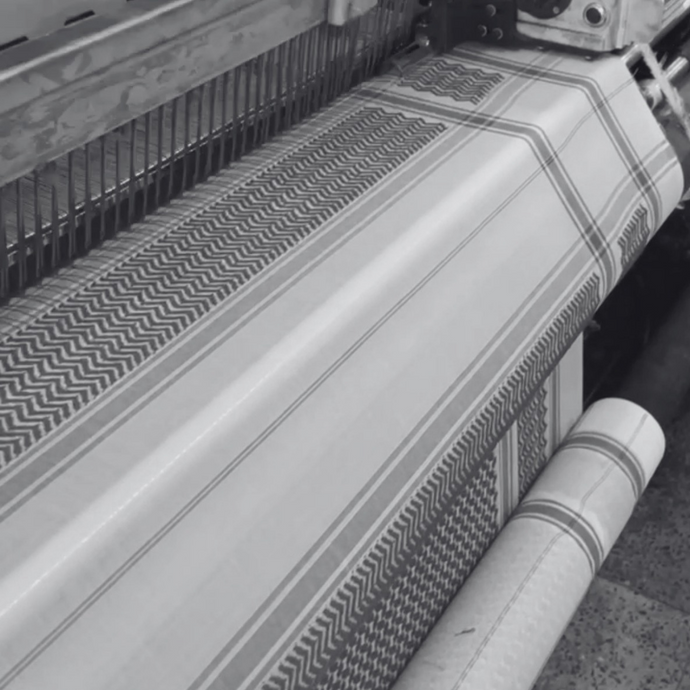 Our Factory
We proudly produce all of our keffiyehs in our family-owned keffiyeh factory currently operating in Amman, Jordan. Established by Jido Ahmed Al Bulbul in Jericho, Palestine in the 1950's, the factory was relocated after he was expelled from Palestine in 1967. The factory is now run by two of his children and produces a wide variety of keffiyehs amongst other textiles. Although our headquarters is based in North America, we recognize the importance of creating pieces authentically and through that, supporting the local Arab community.
learn more
Mask
The mask is unique in that it supports the Palestinian cause. I adore it and wear it to university; they cover your entire face, which I love. 🇸🇴❤️🇵🇸
Never disappointed
That's the fourth or fifth time that I order these masks, and I'm always amazed by their great quality, comfort and durability !
Love this mask!
I love the mask, the elastic sides, and the material.
They wash well too.
Only thing was I found it too difficult to breath in during summer. Have put it away for something lighter weight, but come fall/winter I'll use it again.
Love this mask!!!
Easily one of my favourite masks, very comfortable and beautiful. I find that it runs a little bit large but that's fine, as it guarantees full coverage. Great quality and amazing cause. Thank you so much!
Fabulous as always!
I am the proud owner of 5 KUVRD masks. When I wear them I often get compliments, or at least spark a conversation. Love what you make and what you do, so I bought another one for my dear friend at her request before her summer trip to her home country - Morocco. I'm sure it will stir up a lot of interest there too!
Tomorrow I will wear one of mine (red keffiyeh) when working with a groups from Jordan and again next week (embroidered one) when working with groups from Gaza and the West Bank. My adopted home over the last 10 years - the US (from UK, lived many countries) - is a good space/platform for discussion.
Thank you, as always.