An Arab twist of the classic black dress. Our Sahara Black Keffiyeh Dress incorporates authentic Keffiyeh fabric on a rather simple yet elegant black dress, making it quite the statement piece. With this dress, you can wear your heritage anywhere you go, whether it's a special occasion or just a summer day out. Our Kuvrd Premium collection is proudly made in Amman, Jordan using only high-quality fabrics and is 100% ethically sourced.
Key Features

Premium collection
Authentic keffiyeh fabric
Cotton/ polyester blend Sewn-in label
Care Guide

Wash in cold water

Do not tumble 
Hang to dry 
Shipping & Returns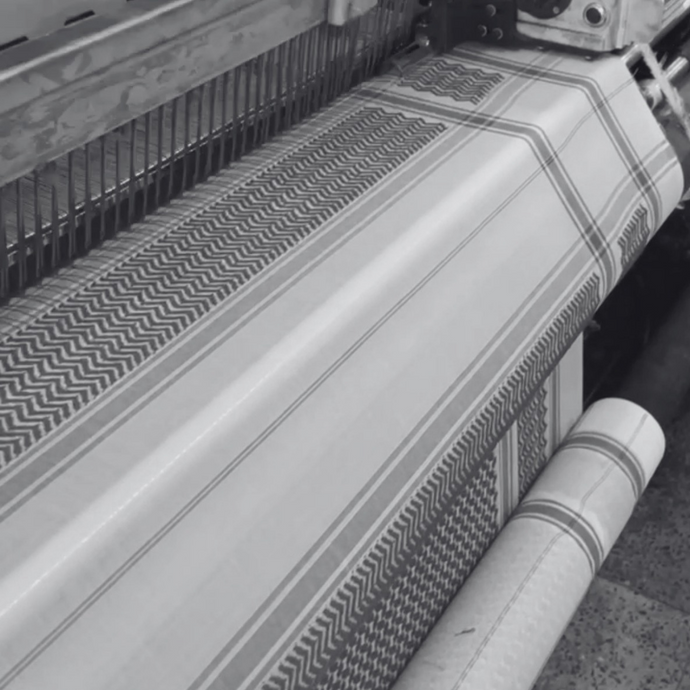 Our Factory
We proudly produce all of our keffiyehs in our family-owned keffiyeh factory currently operating in Amman, Jordan. Established by Jido Ahmed Al Bulbul in Jericho, Palestine in the 1950's, the factory was relocated after he was expelled from Palestine in 1967. The factory is now run by two of his children and produces a wide variety of keffiyehs amongst other textiles. Although our headquarters is based in North America, we recognize the importance of creating pieces authentically and through that, supporting the local Arab community.
learn more
So Cute
The dress is gorgeous. My only point of critique is that it's baggy around the décolleté area (I got a medium and I'm on the chestier end of the spectrum)
Never received my dress
Hi,
I am sad I never received my dress. I was hoping to wear it to a Palestinian event last week. In fact you guys said you would rush my order. Please let me know what happened. I'm so confused.
Beautiful Dress
Very happy I purchased this dress. I love it, and find it a new, modern and stylish way to wear the Keffiyah! Quality is fantastic and we support a cause too.
Beautiful
The dress is well made, great quality and I love the fit of it. It is slightly elastic and not see-through with the right underwear. Size L corresponds to EU size 40 and UK size 12.
Stylish & quality with hints of proud heritage
Love my white Sahara Red Keffiyeh Dress! I wore it to lunch gatherings and also enjoyed posing for pictures in it while visiting Wadi Rum. It's a stylish modern wear of expressing my heritage that's functional and practical. I can wear it to all sorts of functions and the quality is amazing. Thank you for making it affordable. Mine is a medium although I usually wear small in dresses so I recommend sizing up.